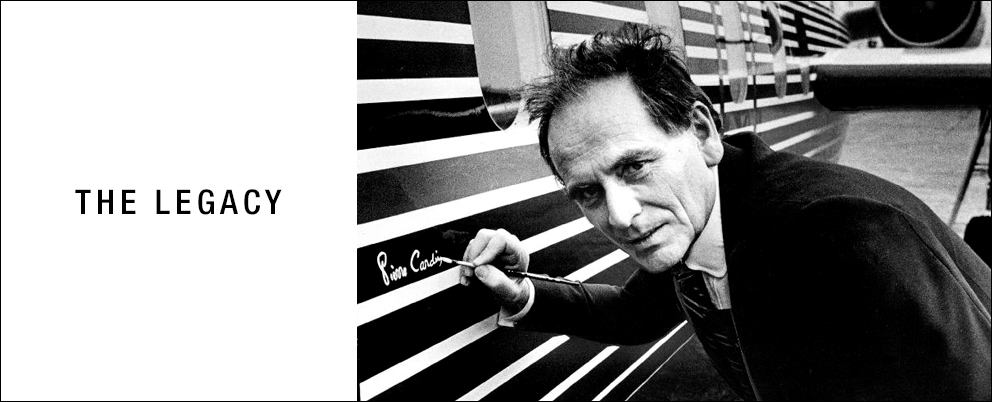 Continuing the legacy of a fashion icon, we are proud to bring you an incredible range of Pierre Cardin gifts. These executive products include printed ballpoint pens, engraved rollerballs and personalised fountain pens. The exclusive range has been developed from the ground up by an expert team of designers and engineers to create Pierre Cardin stationery gifts that surpass the quality of other brands.
Our Pierre Cardin writing instruments and refills have been developed based on the principles of high-quality design, precision manufacturing and Cardin-inspired aesthetics. They represent the perfect marriage of traditional styling, contemporary influences and the latest technology.
The Perfect Personalised Gift
All of our Pierre Cardin gifts can be personalised with your message, whether they're Pierre Cardin printed pens or Pierre Cardin printed notebooks. Each of our Pierre Cardin executive gifts is presented in specially designed luxury packaging to complete a stunning gift that any recipient will be sure to treasure. With a range of styles and colours to choose from, we are confident you will find the ideal Pierre Cardin personalised pen or notebook for you.
An Incredible Marketing Tool
As well as individual gifts, we are also a trade supplier of Pierre Cardin pens and stationery. Our Pierre Cardin range make ideal promotional products, perfect for any marketing campaign or prestigious corporate reward. Pierre Cardin branded pens represent the cutting-edge of writing instrument manufacture that brands will want to be associated with. When engraved with a company name or printed with a marketing message, Pierre Cardin corporate pens and Pierre Cardin promotional notebooks are sure to make an incredible impact. As a wholesaler of Pierre Cardin pens and stationery, we can bulk supply for promotional use.
A Brief History of Pierre Cardin
Pierre Cardin was born in 1922 in San Biagio di Callalta, Italy, at his parents' holiday home. His was a once affluent farming family whose land had been devastated by some of the fiercest battles of the First World War. His parents moved back to their native France in 1926 and Pierre was raised in St. Etienne, a coal-mining town in eastern central France. He had trouble fitting in as he was considered an immigrant and was bullied at school.
Pierre Cardin's father was a winemaker and had expected his son to adopt the family trade. When the young Pierre showed an aptitude for art and design, his parents hoped he would use his talent to become an architect. However, it soon became obvious that Cardin junior was not interested in taking that path. Pierre was instead drawn to the world of theatre and ballet, and particularly fascinated by the costumes and set designs. At just eight years old he was designing dresses for a friend's dolls and his true passion was beginning to emerge. When a school inspector asked Cardin's class what they wanted to do when they grew up, Pierre declared, without hesitation, "a couturier".
Embarking on the Path to Fashion
In 1936, at the age of 14 years old, Pierre Cardin started as an apprentice for Chez Bompuis, the best tailor in St. Etienne. It was here that Cardin learned the art of tailoring suits that would inform his work for the early part of his career.
By 1940, France had been overrun by the Nazis and St. Etienne was occupied. Pierre decided to head for Paris, setting off on his bicycle with a few meagre possessions. After being robbed by Nazi soldiers, he detoured to the town of Vichy, a glamourous symbol of unoccupied France. He found work at the clothing store Manby where he made suits for women.
Cardin was called up for compulsory labour in German factories in 1943. He went on the run before a leg injury exempted him from conscription. Instead he was sent to do administrative work for the French Red Cross, where he developed the humanitarian interests that are still important to him today.
Pierre Cardin eventually made it to Paris towards the end of the war; the young fashionista finally found himself in the fashion capital of the world.
When the war ended in 1945, Pierre Cardin went to work for the fashion designer Paquin, then had a brief stint with the Italian clothier Schiaparelli. He also studied architecture, although fashion was still very much his focus. During this period Cardin teamed up with director Jean Cocteau and designer Christian Berard and made numerous costumes for films, including the 1946 production of "La Belle et la Bête", or "Beauty and the Beast".
Pierre Cardin's big break came that same year when he landed a job at Christian Dior. As one of the most internationally recognised designers of the day, Dior was preparing to open his own fashion house. Cardin was part of an elite team chosen to work on the new "House of Dior" collection, designed to emphasise femininity after the austere war years, and Cardin continued to shape the direction of Dior's "New Look" over the next few years.
In 1950, after honing his trade while working for other people, Pierre Cardin decided he was ready to go it alone.
Cardin Sets Out on His Own
Cardin set up his own fashion house and was almost immediately successful. In 1953 he launched his first haute couture collection of women's clothing. While his initial work was widely respected, it was with the launch of his famous "bubble dress" the following year that Cardin found international success. 1954 also saw Cardin open two boutiques, Eve and Adam, with Paris' first boutique for men following three years later. It was around this time that Pierre Cardin set his sights on Japan as a potential market – unheard of among European fashionistas – and his designs were also influenced by his travels there.
As well as a revered designer, Cardin was an astute businessman and towards the end of the 1950s realised that the market for high fashion was limited to a niche wealthy clientele and more money could be made by selling simpler, cheaper versions of his designs. This was the emergence of "ready-to-wear" clothing. Cardin is quoted as saying "Why should I work only for rich people?"
In 1959, Pierre Cardin opened his first pret-a-porter boutique in Paris. This provoked the ire of the Chambre Syndicale, the federation that governed the French fashion industry, and he was briefly expelled from membership. The Chambre Syndicale was a conservative body and saw ready-to-wear as a threat to the traditional values of the fashion industry.
Cardin pressed on undeterred.
A Brand is Created
The 1960s were busy and successful for Pierre Cardin. It was during this period that he introduced his famous "Space-age" look – futuristic, angular designs that were far removed from the soft, female shapes he had worked on for Dior. These were revolutionary items of clothing, not just aesthetically but also in the way new materials were used to achieve the look Cardin wanted. His designs were strange and alien and were an immediate hit.
As well as this avant garde fashion, the 1960s saw the launch of Cardin's first clothing line for children, and a new casual style of men's dress that had a major impact in Britain and America.
He also created a system of licences during this period – a practice now commonplace but unheard of at the time – and was the first designer to launch a clothing collection where the garments displayed the designer's logo. Although Cardin can't be credited with inventing the idea of the designer label, he was certainly its most influential and enthusiastic proponent.
In 1971, Pierre Cardin opened his own venue in Paris to show off his collections. The "Espace Cardin" allowed Cardin to exhibit his work without the approval of the traditionalist Chambre Syndicale, and he also used the space to promote new artists, musicians and theatre performers.
Cardin was not content to limit his work to clothing and accessories. By the 1970s, his already established brand allowed him to branch out into new fields. Pierre Cardin furniture was characterised by his trademark futuristic designs where traditional cabinetmaking and lacquering techniques were married with sci-fi aesthetics and bold geometry. Perhaps Cardin's foray into furniture-making had always been on the cards – it is said he designed his first piece of furniture at just eight years old.
The burgeoning Pierre Cardin brand even moved into industrial design. He developed a number of "themes" that could be applied to a wide range of products, each carrying his name and logo so as to be easily recognisable as Cardin branded. In 1972 he was commissioned by the automobile manufacturer AMC to design the interior of a special edition Javelin, with a bold design considered outlandish at the time. Towards the end of the 1970s he even put his name to a Pierre Cardin branded executive jet.
Perhaps Cardin's most iconic creation of this period was his Palais Bulles, or "bubble palace", in Cannes, South of France. With the help of architect Antti Lovag, this audacious project was started in 1975 and finally completed in 1989. The finished villa is famous for its bulbous, alien construction. It occupies 1,200 square metres and includes 10 luxury rooms, a tropical garden, swimming pools and a 500-seat amphitheatre. It is furnished with Cardin's own creations, as well as the work of other contemporary artists.
During the 1970s and 1980s, Pierre Cardin's influence further spread across the globe. He was the first Western designer to exhibit in China and the first to open a boutique in Russia; he designed uniforms for Pakistan International Airlines and redesigned the national costume of the Philippines.
In 1981, he bought the famous Maxim's restaurant in Rue Royal, Paris and soon opened further Maxim's in Brussels, Beijing, New York and Moscow. Cardin-branded food products were released to complement the chain. By 2008, Pierre Cardin had opened his tenth Maxim's restaurant.
Today, Pierre Cardin has become a highly regarded brand that is recognised the world over and we are proud to have the name adorn our Pierre Cardin logo pens, Pierre Cardin pencils and Pierre Cardin corporate notebooks.